Hello! In this week's ETF Wrap, you'll see how far Cathie Wood's flagship ETF has surged in 2023. Yet despite beating major U.S. stock indexes, the fund has seen outflows so far this year.
Next week, ETF Wrap will be taking a break for the coming U.S. holiday —we hope you have a happy Thanksgiving!
Please send feedback and tips to christine.idzelis@marketwatch.com or isabel.wang@marketwatch.com. You can also follow me on X at @cidzelis and find me on LinkedIn. Isabel Wang is at @Isabelxwang.
Sign up here for our weekly ETF Wrap.
Cathie Wood's flagship exchange-traded fund, ARK Innovation ETF, has been on a bullish tear.
"It's in breakout mode," said Frank Cappelleri, founder of technical analysis research firm CappThesis, in a phone interview. "ARKK is the poster child for speculative growth stocks, so a lot of people are looking at it."
The ARK Innovation ETF, which trades under the ticker ARKK, has surged 26.1% over the past 13 trading days through Wednesday. That brought this year's gains for the fund to 37.7%.
"Wood's ARK Innovation ETF is up more than double the S&P 500 since the index's recent low on Oct. 27," said Jessica Rabe, co-founder of DataTrek Research, in an emailed note Wednesday. The fund, which seeks to invest in companies that benefit from disruptive innovation, also saw more than twice the gains of the technology-heavy Nasdaq Composite over the 13 days through Nov. 15.
The S&P 500 climbed 9.4% since Oct. 27 through Wednesday while the Nasdaq rose 11.6% over the same period, according to FactSet data.
The actively managed ARK Innovation ETF , which has around $7 billion of assets under management, is also beating the S&P 500 and Nasdaq so far this year, FactSet data show.
The S&P 500 has risen 17.3% in 2023 through Wednesday while the Nasdaq has soared around 34.8%.
ARK Investment Management, founded by chief executive officer and chief investment officer Wood, launched ARK Innovation ETF in 2014. Its top holdings as of Nov. 15 included Coinbase Global Inc.
COIN,
-2.08%,
Roku Inc.
ROKU,
-3.10%,
Tesla Inc.
TSLA,
-4.85%,
Zoom Video Communications Inc.
ZM,
-0.72%
and UiPath Inc.
PATH,
-3.64%,
holdings data from ARK's website showed.
The ETF "triggered a bullish pattern" on Nov. 14, according to an emailed note from Cappelleri.
Pointing to the chart below, he wrote that "any pullback that finds demand above the gap highlighted in blue would keep the pattern in play."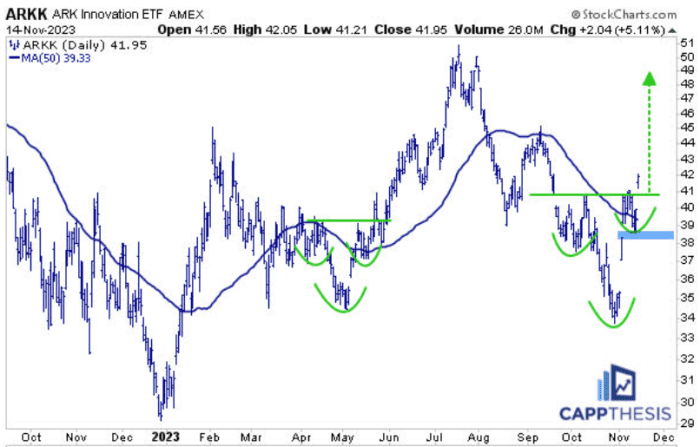 Shares of the ARK Innovation ETF
ARKK
were trading sharply lower in early afternoon trading on Thursday, at around $42.45, according to FactSet data, at last check. 
The fund has been recovering in 2023 from a 67% plunge last year as the Federal Reserve rapidly raised interest rates in a bid to tame high inflation. The aggressive rate hikes broadly pummeled equities in 2022, but growth stocks were particularly hard hit. 
By way of comparison, the SPDR S&P 500 ETF Trust
SPY
dropped 19.5% last year while the Invesco QQQ Trust Series I
QQQ,
which tracks the Nasdaq-100 index, slumped 33.1%.
ARKK sees biggest daily inflow since July
Despite the ARK Innovation ETF's recent surge, the fund has seen $678 million of outflows this year through Nov. 15, after attracting about $18 million of net inflows in the past week through the same date, according to FactSet data. 
A spokesperson for ARK didn't immediately respond to an email seeking comment on ARK Innovation ETF's performance and flows.
On Wednesday, investors poured $145 million into the fund, the biggest daily inflow since July, FactSet data show.
"That's a pretty significant turnaround in one day," said Aniket Ullal, head of ETF data and analytics at CFRA Research, in a phone interview.  
Some ETF strategies, particularly actively managed funds, sometimes see "long lags between performance and flows," he said. "We think this is the case with ARKK," which is among the largest thematic ETFs, said Ullal.
As usual, here's your look at the top- and bottom-performing ETFs over the past week through Wednesday, according to FactSet data.
The good…
Top Performers
%Performance
Invesco Solar ETF
TAN
12.2
SPDR S&P Semiconductor ETF
XSD
11.4
ARK Genomic Revolution ETF
ARKG
11.0
First Trust Nasdaq Clean Edge Green Energy Index Fund
QCLN
10.8
ARK Innovation ETF
ARKK
10.0
Source: FactSet data through Wednesday, Nov. 15. Start date Nov. 9. Excludes ETNs and leveraged products. Includes NYSE, Nasdaq and Cboe traded ETFs of $500 million or greater
…and the bad
Bottom Performers
%Performance
Invesco DB US Dollar Index Bullish Fund
UUP
-1.4
iMGP DBi Managed Futures Strategy ETF
DBMF
-1.3
VanEck IG Floating Rate ETF
FLTR
little changed
iShares Treasury Floating Rate Bond ETF
TFLO
little changed
WisdomTree Floating Rate Treasury Fund
USFR
little changed
Source: FactSet data
New ETFs
Jeremy Grantham's GMO announced Nov. 15 that it launched its first exchange-traded fund, the GMO U.S. Quality ETF
QLTY

.


"Quality has a claim on being the most mispriced characteristic in the market over the last 100 years," said Grantham, GMO's co-founder and long-term investment strategist, in the announcement. "Since we began researching quality in the 1980s, GMO has focused on finding companies with a consistent and enduring ability to deliver high returns on their investments."
Fidelity Investments said Nov. 13 that its six new active equity ETFs will be available through its online brokerage platforms on Nov. 20: Fidelity Enhanced Large Cap Core ETF (FELC), Fidelity Enhanced Large Cap Growth ETF (FELG), Fidelity Enhanced Large Cap Value ETF (FELV), Fidelity Enhanced Mid Cap ETF (FMDE), Fidelity Enhanced Small Cap ETF (FESM) and Fidelity Enhanced International ETF (FENI). The coming launches follow Fidelity's June announcement that it planned to convert its actively managed "Enhanced Index mutual fund suite" into ETFs.
Weekly ETF reads
Original Source