The Dow Jones Industrial Average, which was the only one of the Big 3 stock-market trackers to have a losing May, suffered its worst month in terms of daily gains in 11 years.
The Dow
DJIA,
-0.41%
lost 1,189.89 points, or 3.49%, in May. That's not particularly a bad month, as it was the smallest decline during months the Dow lost ground since it slipped 3.32% in January 2022. In between, the Dow declined in seven of 15 months, with an average loss of 5.20%.
In contrast, the S&P 500 index
SPX,
-0.61%
gained 0.5% in May and the Nasdaq Composite
COMP,
-0.63%
advanced 5.8%, with both indexes producing a third straight monthly gain.
What makes the Dow's relative weakness stand out is that of May's 22 trading sessions, the Dow gained ground only five times. That's the fewest daily gains in any month since it rose in five of 22 sessions during May 2012.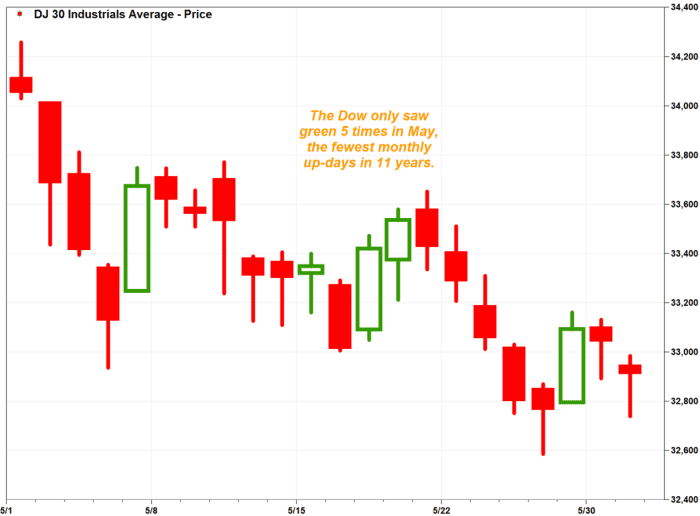 The next fewest monthly up days was six, out of 21 sessions, in August 2015.
During May, the Dow suffered two five-session losing streaks and one four-session losing streak.
Meanwhile, the S&P 500 gained 10 times in May and the Nasdaq Composite advanced 11 times.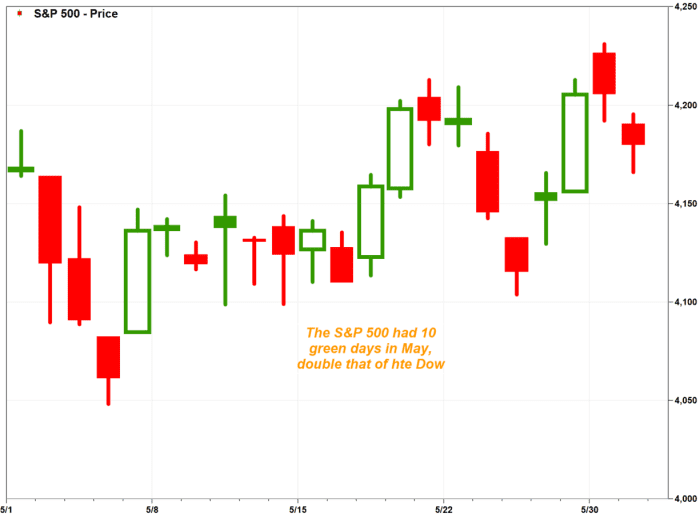 Within the Dow, only six of 30 components, or 20%, gained ground during May, led by Salesforce Inc.'s stock
CRM,
+2.06%,
which rallied 12.6%.
The biggest percentage decliner was Nike Inc.'s stock
NKE,
-1.18%,
which slumped 16.9%. It was also the biggest drag on the Dow, which is a price-weighted index, as the stock's price decline of $21.46 in May shaved about 141 points off the Dow's price.
For the S&P 500, 124 components, or about one-quarter of the index, rose in May. The biggest gainer was Nvidia Corp.'s stock
NVDA,
-5.68%,
which rose 36.3%, while the biggest loser was Advance Auto Parts Inc.'s stock
AAP,
-35.04%,
which shed 41.9%.
Original Source