Americans don't think inflation will ease anytime soon.
According to a monthly Consumer Sentiment study from market research company Numerator, 78% of Americans think "inflation will increase" in the next few months. In addition, 68% of people say the U.S. economy will worsen in the next few months.
Inflation in the U.S. remains much higher than the 2% target routinely outlined by the Federal Reserve.
April's inflation data showed that U.S. inflation eased to 4.9% year-over-year, the first time it has been below 5% in two years, but actually increased 0.4% from the prior month.
According to the Labor Department, inflation is down from 9.1% last summer, which at the time was the highest inflation in over 40 years.
Despite cooling inflation over the last year, Americans are still worried about rising prices. Home prices rose in March partially over limited supply, according to the Case-Shiller Index, and food prices were 8.5% more expensive in March than they were a year ago (although down from the previous month).
See also: Americans have gloomy view about the future with 71% predicting the U.S. will be 'less important' by 2050
These pessimistic economic fears have remained fairly consistent in recent months as many Americans are fearful of a potential recession, polls show.
This is consistent with a recent survey of consumer confidence, which slipped to a six-month low in May, the Conference Board said Tuesday.
"Consumers continued to view inflation as a major influence on their view of the US economy," said Ataman Ozyildirim, senior director of economics at the board. 
Amid economic concerns, what are people doing to cut back?
According to the Numerator survey, the top areas people say they are finding ways to cut spending is eating out at restaurants, electronics and travel.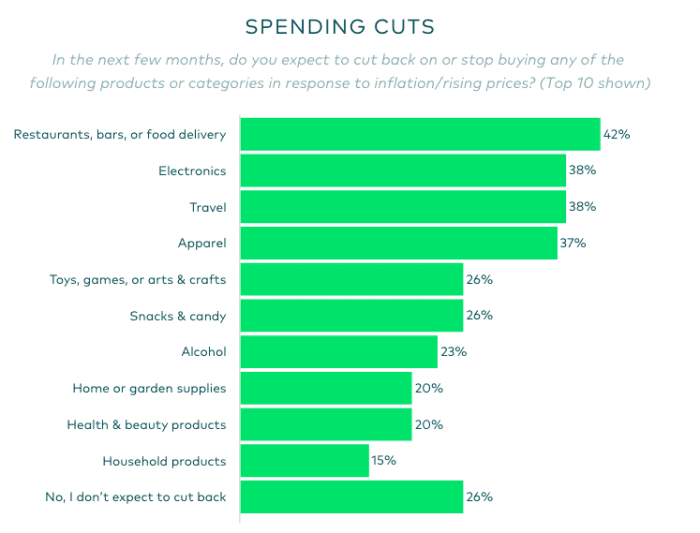 Numerator's survey was conducted on May 12, 2023, and compiled responses from 1,025 American adults.
Despite a gloomy economic outlook by many Americans as it relates to inflation, there are several economic indicators that Americans can look at positively. The S&P 500
SPX,
+0.00%
Index moved toward a 10-month high on Tuesday, U.S. unemployment remains below 4%, and gas prices have dropped considerably over the last 12 months. The price of a gallon of gas averaged $3.57 as of Tuesday, down from $4.61 one year ago, AAA said.
Read on: 'He's content living paycheck to paycheck': My husband won't work or get a driver's license. Now things have gotten even worse.
Original Source