Torie Miesko, a medical biller and single mom to two kids, skipped lunch at work and snacked on chips so that her kids could have the apples and oranges. Miesko, 29 and living in Pittsburgh, Pa., uses the Supplemental Nutrition Assistance Program (SNAP) to put food on the table and give her kids snacks. This month, her benefits fell from roughly $700 to $250.   
She used to buy grapes and strawberries to mix things up, but those are no longer affordable. "What else am I supposed to do? You can't just give up," Miesko said. "You gotta use your 'mom brain' and figure out what's gonna hurt you the least to lose."
She divides her $1,800 monthly income with SNAP benefits across her rent and utilities, car insurance, gas, child care and groceries. 
Congress authorized a temporary increase in SNAP benefits, called emergency allotments, in March 2020 to help people through pandemic-related business closures and job losses. These payments gave participants at least $95 on top of their original monthly benefits.
"'Parents are worried they won't be able to afford healthy, nutritious foods like fruits, vegetables and whole grains, and instead will need to rely on cheaper processed foods to feed their kids.'"

— Jessica Burroughs, MomsRising's hunger and food insecurity campaign director, on the end of enhanced SNAP payments

But the recent omnibus spending bill ended emergency allotments for most states after their February issuances. Households with children will lose $223 on average per month, according to the Center on Budget and Policy Priorities' calculation. 
During the day, Miesko and her two kids typically have cereal or oatmeal for breakfast. The kids snack on apples and oranges throughout the day and eat their lunch at daycare. Miesko, meanwhile, does not eat until dinner, which is usually a pasta or a stew she made on Sunday. 
Other benefits introduced earlier in the pandemic were a great help, she added. For instance, the one-year enhancement to child tax credit payments in 2021 allowed her to pay for her car insurance; when they ended, that presented another challenge. 
SNAP recipients such as Miesko are already financially vulnerable. To qualify for SNAP benefits, most households must have a gross monthly income of less than 130% of the federal poverty line. (SNAP recipients in Alaska and Hawaii abide by slightly higher income limits.)
Some 45% of SNAP recipients have children, compared to 28% of non-SNAP households, according to a recent poll by the data company Numerator.
Nearly three in ten SNAP households said that "sometimes" there was not enough food to eat in the past 7 days, while 11% said there was "often" not enough to eat in the past 7 days, according to the Census Bureau Household Pulse survey polling more than 10 million SNAP households. (The 7-day period covered Feb. 1 to Feb. 13, 2023.)
Though the worst days of the pandemic appear to be over, high inflation is presenting new challenges for low-income households, food-equity advocates say.
The annual rate of inflation in February was 6%, according to government data released Tuesday. Food prices rose 9.5% compared to the same month a year earlier, and grocery prices increased by 10.2%. Food inflation peaked in August 2022 at 11.4% higher over the past year.
SNAP benefits aren't keeping up with inflation
Food insecurity is on the rise, experts and advocates warned recently, and if no public support is provided, many will fall off a "hunger cliff," meaning families will suddenly experience a lack of food due to high prices and diminishing SNAP benefits.
Adding to the pressures felt by SNAP recipients: The Consumer Price Index recorded a nearly 300% rise in the price of food at elementary and secondary schools in February compared to a year earlier, largely due to the discontinuation of the universal school-meal program last fall. 
The universal school-meal program was part of the federal government's pandemic-era emergency nutrition relief.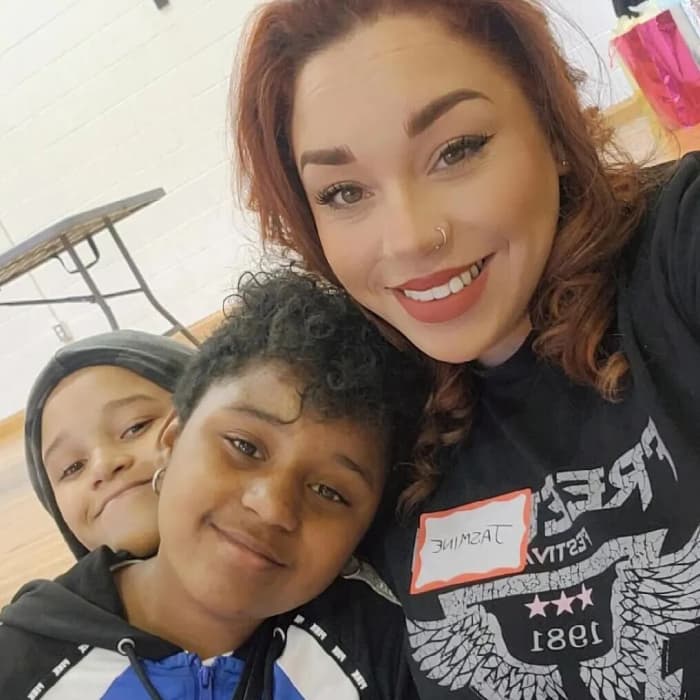 While low-income families rely on public assistance to make ends meet, few programs have been able to keep pace with rising prices over the past year. The maximum monthly SNAP benefit for a household of four last September was $130 less than the USDA's estimate of the amount needed for a "nutritious, budget-conscious food plan"; that deficit fell to $28 the following month after the benefit level was updated, wrote researchers Gregory Acs and Laura Wheaton of the center-left Urban Institute in a February report.
Jasmine Wooten, a 33-year-old mom of two, volunteers for a local pantry project for single moms, Motherful, located in Columbus, Ohio three times a week. She also gets food from the pantry, which she said is a big help to her family. Her monthly SNAP benefits fell by $95 this month to $650. 
Wooten has noticed an influx of moms turning to the pantry since January, she said. "It was busy during the holidays, but that's typical. People are really trying to supplement those big holiday meals," Wooten said. "But in the new year, it's been a lot more busy."
Ever since Motherful started at the outset of the pandemic, the program has continued to see rising demand from single moms, said Lisa Woodward, a co-founder and co-director of the organization. The nonprofit partnered with Trader Joe's and opens three times a week to provide food items such as fresh vegetables and meat to local moms "from all ZIP codes and all income levels." The program also helps the many single mothers who need help but don't qualify for SNAP, Woodward said.
The stigma of being a single parent
Wages are struggling to keep up with inflation, especially for low-income mothers, said Jessica Burroughs, the North Carolina hunger and food insecurity campaign director at MomsRising, a grassroots advocacy organization.
Balancing work and childcare is hard work, especially as a single parent. That's why Wooten, who recently graduated as a social worker after six years of schooling, is devoted to hunting for a job that can pay enough to lift her family out of the food-assistance programs.
A low-income job that pays $20 an hour brings in cash, she said, but it also means she will have to pay for childcare support while she's at work. Wooten will lose much of her SNAP and Medicaid benefits when her income rises. 
And the clock is ticking: Wooten and her kids currently live in a rent-free housing program, but that will soon change.
"If I'm working in Amazon [warehouses], I won't have the time to go to the pantry," Wooten said. "There's just so much that goes into being a single mom that people don't understand looking in. So it often gets perceived as making an excuse, and that's absolutely not the case." 
In the meantime, she continues to find ways for her family to cut costs. Wooten asked her kids to make sure they only use a few squares of toilet paper when going to the bathroom to save on toiletries, and said she is constantly faced by such difficult choices. 
"So it's trying to balance between, 'Can I pay my car note or do I need to make a call on an extension? How can I get my cell phone?'" Wooten said. "That's the one thing that I can't go without — I have to be able to contact employers." 
Parents cut back on fruits and vegetables — and small joys
Moms across North Carolina — and across the country — have voiced fears and concerns about SNAP emergency allotments ending, Burroughs said. 
"So many of our members were already struggling to stretch their SNAP funds to last the whole month, and said these cuts will be devastating," Burroughs told MarketWatch. "Parents are worried they won't be able to afford healthy, nutritious foods like fruits, vegetables and whole grains, and instead will need to rely on cheaper processed foods to feed their kids."
In the most recent monthly survey by Providers, an app for SNAP users to check their Electronic Benefits Transfer (EBT) balances, a user from Colorado commented, "Losing benefits is going to be a huge blow. We will just have to eat a lot less. I'll make sure my son eats even if that means I have to skip a meal here and there." 
Miesko, the mother in Pittsburgh, makes a big meal on Sundays that typically stretches for three to four days. For the remaining days of the week, Miesko has had to resort to McDonald's to save money — "which obviously is not a healthy option, but it's cheaper," she said.
For many parents, making trade-offs to ensure their kids don't have an empty stomach is nothing new. In an early-February poll of more than 550 parents by ParentsTogether Action, a family-advocacy nonprofit, 65% of parents said they'd had to buy fewer fruits and vegetables or change the brands of food they buy. 
Burroughs of MomsRising said a North Carolina mom had shared with her that the extra EBT money from the pandemic-era boost allowed her to put more fresh fruits and vegetables on the table, including dragon fruit, her son's favorite. Before the emergency allotments, Burroughs said, the woman usually had to "count her tomatoes and cucumbers."
Miesko said it's about to keep making it work with limited resources. That includes cutting back on things that she looked forward to and kept her going, such as a shampoo she liked. 
"The little things that make life a little bit more bearable — you gotta get rid of them sometimes," Miesko said. 
Related: 
Orange juice, a common offering in public schools, is getting more expensive 
'Food inflation is coming down,' Biden says, but experts say food insecurity in America is on the rise
Inflation is easing, but some grocery prices are expected to soar in 2023 — including one whose price rose nearly 60% over the past year
Original Source