Wall Street is pointing to a weak open ahead of Tuesday's earnings from Microsoft and other big names. That's a day after soft-economic landing hopes fueled fresh 2023 highs for the S&P 500
SPX,
+1.19%
and Nasdaq Composite
COMP,
+2.01%.
Diving straight in, our call of the day taps into a potential market worry that may be off investors' radars, from Stock Traders Daily and portfolio manager at Equity Logic, Thomas H. Kee Jr., who warns that liquidity leaving the financial system could upset markets in 2023.
In a recent report to clients, Kee noted similarities between current markets and 2019, when big banks started questioning levels of liquidity due to a Fed drain, and ultimately pushed overnight lending rates to over 8.5%. The Fed got things under control in a short space of time via massive liquidity injections.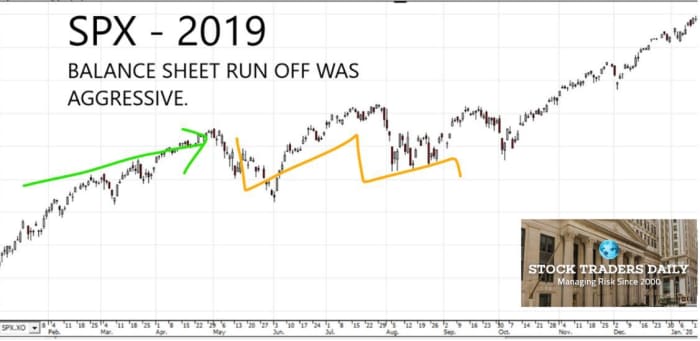 Kee is worried about a 2019-style event for this year amid an increasingly "aggressive" Fed balance sheet runoff —the bank lets a portion of the securities that mature each month fall off its books — and already higher rates. But things could get ugly as it can't "buy its way out of the problem" this time, he says.
Back then, the Fed "stopped the balance sheet reduction, slashed rates to 0% again, started asset purchases again, and the market took off in 2019." Unlike now, back then "very few people were pointing to stimulus and asset purchases as catalysts for inflation and inflated asset price appreciation."
He notes that another $1 trillion needs to come off the Fed balance sheet before it matches the 2019 balance sheet reduction.
Kee's proprietary Evitar Corte crash indicator, which gauges Fed monetary policy to try to avoid market meltdowns, signaled a crash warning in 2019. He flagged budding liquidity issues to MarketWatch last November.
"We identified massive changes to liquidity (new money) last year, as the FOMC reduced stimulus to $0.  This year the risks of a market crash warning is high, and we have identified liquidity drains from the FOMC (net negative stimulus)," he added in emailed comments. "Between last year and this year, the FOMC has gone from highly simulative, to a massive drain on liquidity."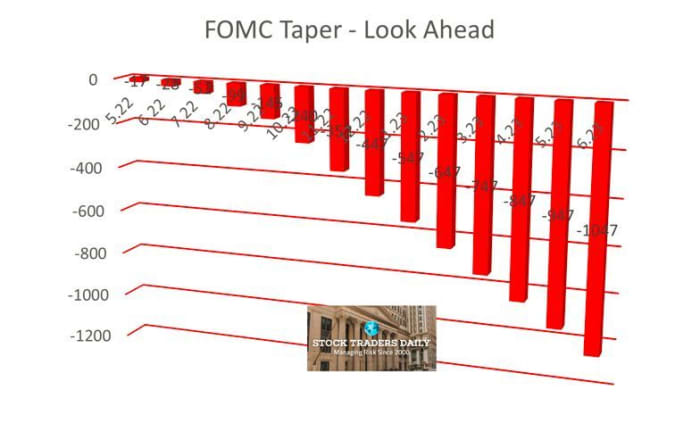 What to watch out for? "Recall that the banks became concerned months before the trough in the balance sheet in 2019, so the signals are likely to start to come months before it reaches a boiling point this time too," he said.
How to prepare? "The best way to approach this is to remain in nimble strategies, like our SPY-Cash Model," said Kee, referring to his long-favored strategy of alternating between cash and the highly liquid SPDR S&P 500 ETF
SPY,
+1.20%
 .
"There is also enough volatility in the market for some investors to improve cost basis, but everyone needs to be in nimble strategies.  Our CORE Portfolio Strategy has been long all year, up about 8.5% YTD vs 4.4% for SP 500," he said in emailed comments. (Read more on that here). "CORE also has the ability to neutralize market risk on a dime if the conditions call for it."
Read: Technical strategist DeMark called the euro bottom. Here's what he says now about the euro, bitcoin and the Nasdaq-100
The markets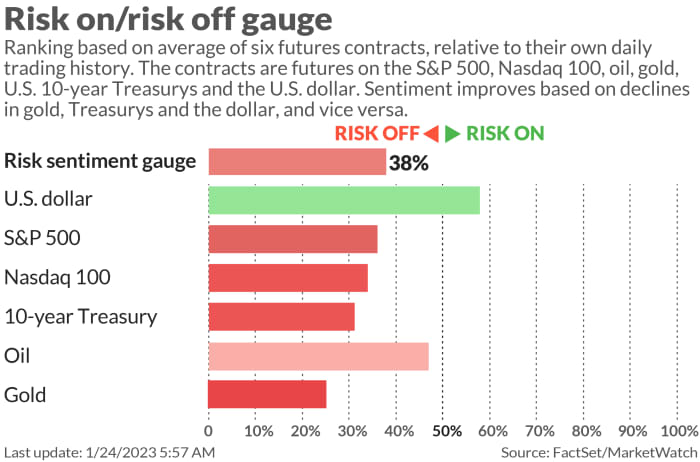 Stock futures
ES00,
-0.29%
NQ00,
-0.43%
are lower, with bond yields
TMUBMUSD10Y,
3.508%
TMUBMUSD02Y,
4.231%
easing, along with the dollar
DXY,
-0.09%.
Oil prices
CL.1,
+0.45%
BRN00,
+0.26%
are flat. Bitcoin
BTCUSD,
-0.02%
is holding above $23,000.
For more market updates plus actionable trade ideas for stocks, options and crypto, subscribe to MarketDiem by Investor's Business Daily. And follow MarketWatch's live blog for more market updates.
The buzz
3M
MMM,
+1.63%
shares are down after a disappointing outlook, and the industrial giant also announced 2,500 job cuts, while GE
GE,
+2.69%
stock is choppy as its view was also downbeat. Verizon
VZ,
-0.93%
earnings came up short and shares are down. Better news from Johnson & Johnson
JNJ,
-0.25%,
whose shares are gaining on an upbeat profit view. Lockheed Martin
LMT,
-0.45%
are still to come, with Microsoft
MSFT,
+0.98%
and Texas Instruments
TXN,
+2.99%
headlining after hours.
Microsoft also announced a  "multiyear, multibillion-dollar investment" in AI startup OpenAI, maker of ChatGPT. Our tech editor Jeremy Owens says it's unlikely the tech giant will be challenging Google in search now.
Amazon
AMZN,
+0.28%
is planning a subscription prescription drug service.
The feds are reportedly preparing to sue Alphabet
GOOGL,
+1.81%
again, this time over dominance in the online ad market.
January's flash services and purchasing managers surveys are due at 9:45 a.m. Eastern.
Best of the web
Why naked short selling has suddenly become a hot topic
Common currency confusion. No, Brazil and Argentina aren't planning a South American version of the euro.
CIA-founded Radio Free Europe is experiencing a renaissance due to Russia's invasion of Ukraine
The chart
The commodities market may have priced in less of China's reopening growth boost, "and may have more upside than more forward-looking assets like equities," say Goldman Sachs analysts Callum Bruce and Romain Langlois, in a note.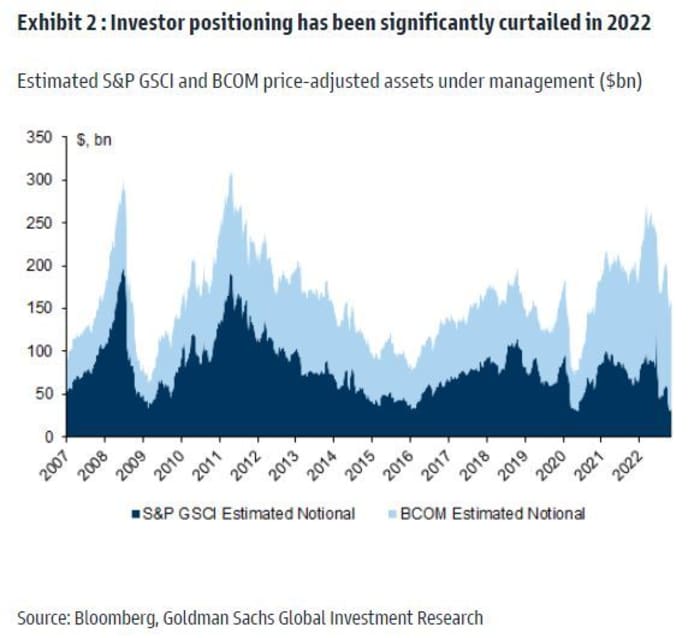 "We estimate that this has largely been a result of higher interest rates and the associated volatility, keeping passive flows on the sidelines," they said, adding that commodity markets should start to tighten up on China's reopening, drawing more investor flows.
The tickers
These were the top-searched tickers on MarketWatch as of 6 a.m. Eastern:
Ticker
Security name
TSLA,
+7.74%
Tesla
BBBY,
-12.24%
Bed Bath & Beyond
GME,
+10.45%
GameStop
HLBZ,
+109.13%
Helbiz
AMC,
+2.54%
AMC Entertainment
GNS,
+45.37%
Genius Group
NIO,
+8.94%
NIO
AAPL,
+2.35%
Apple
MULN,
+2.27%
Mullen Automotive
APE,
+5.17%
AMC Entertainment Holdings preferred shares
Random reads
Water from Disney's shuttered Splash Mountain ride is selling for $100+ an ounce on eBay.
Lifeguard conquers 30-foot waves, beats out biggest names in surf to claim 'The Eddie' crown in Hawaii
Need to Know starts early and is updated until the opening bell, but sign up here to get it delivered once to your email box. The emailed version will be sent out at about 7:30 a.m. Eastern.
Listen to the Best New Ideas in Money podcast with MarketWatch reporter Charles Passy and economist Stephanie Kelton.
Original Source